In the eastern part of the Montseny Natural Park, on a high hill, proudly rises one of the best Gothic castles of Catalonia – Montsoriu Castle (Castell de Montsoriu). People lived here since ancient times, the ancient Iberians built their settlement here, realizing the benefits of the convenient location and security of this place. The first written evidence of the presence of a fortified settlement dates back to 923, and the heyday of the castle's glory dates back to the 14th century – it was then that the Viscount family of Cabrera lived here – one of the powerful families of the Catalan-Aragonese kingdom. According to contemporaries, the castle was a practically impregnable fortress thanks to stone walls and towers built according to the canons of fortification art, as well as an ingenious system for storing drinking water. In the troubled times of the Middle Ages, the castle gave shelter to other noble families of Catalonia, as well as to residents of surrounding villages.
Restoration work in the castle began in 1993, and they continue to this day.
According to one legend, three snakes live in one of the dungeons of the Montsoriu castle, and each of them holds a diamond in her mouth, and only in order to quench the thirst, snakes lay diamonds aside. The daredevil who can secretly steal a diamond from a snake while she drinks water will be rich and happy😃.
In the first photo – the majestic mass of the castle is amazing.
***
The crane does not fit into the atmosphere of the Middle Ages😁.
***
Barbakan – a fortification designed to further protect the entrance to the fortress.
***
Spiral staircase for climbing the square tower roof.
***
View from the fortified roof to the courtyard of the castle, as well as the ruins of residential premises and the Gothic chapel.
***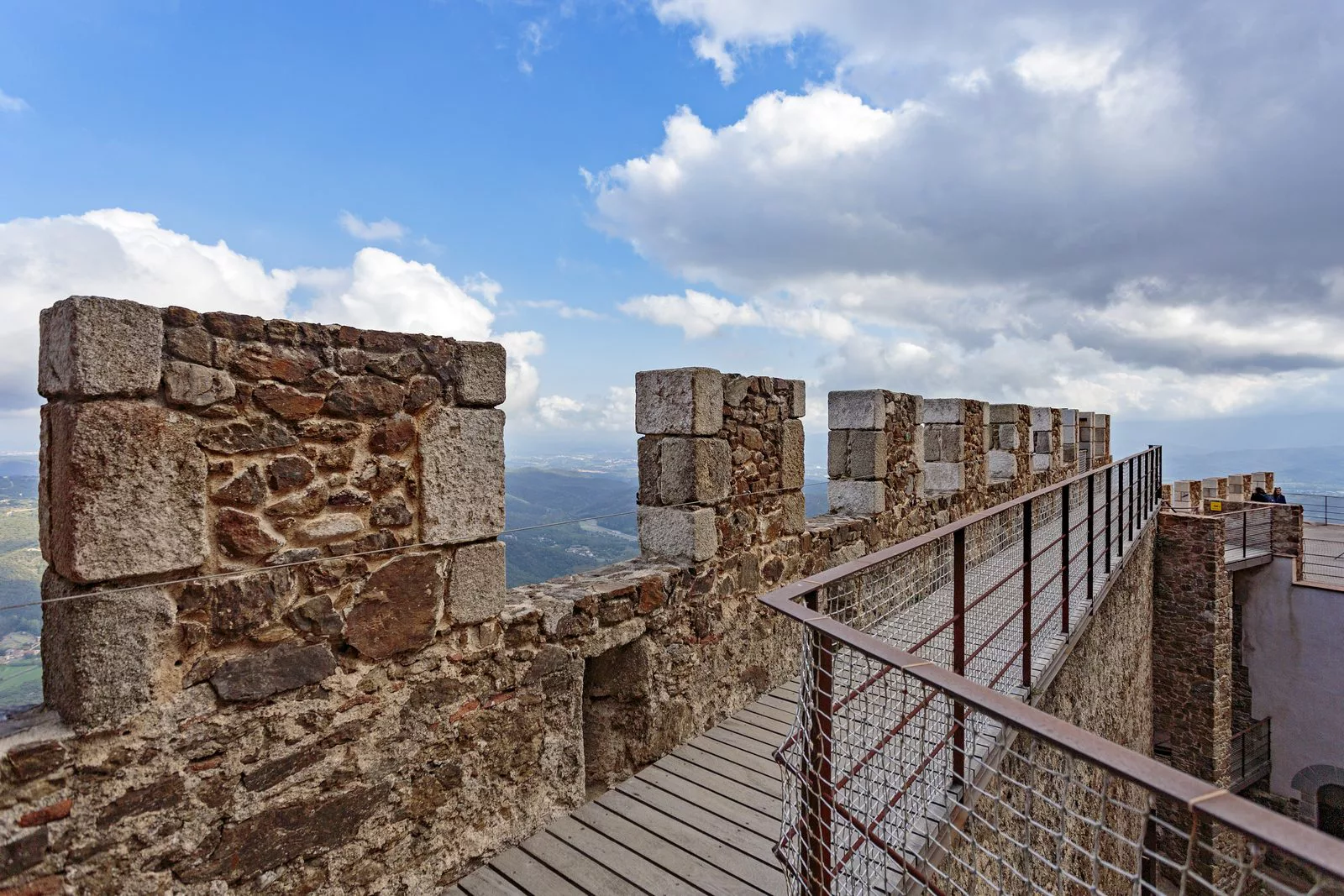 Once upon a time, armed guards made rounds along the fortress wall of the castle.
***
Inner courtyard and staircase to the roof.
***
The main tower is the highest point of the castle, about 650 meters above sea level.
***
View from the main tower to the inner courtyard and the northern roof.
***
The restored part of the covered gallery. In the past it passed along the entire courtyard of the castle and allowed the guards to serve in any weather.
***
And, finally, a short video of what the Castell de Montsoriu castle looks like from a height through the eyes of eagles.
***
As usual, a more detailed story about the history of the Montsoriu castle with a large number of photos can be found in our blog following the
link
.