Without a doubt, one of the dates not to be missed in Girona is the traditional annual flower festival Temps de Flors Girona. This once bright and enchanting event has always brought a special charm and flavor to the narrow streets of medieval Girona. With a fair amount of regret, we are forced to state that from year to year the bar for the quantity and quality of flower arrangements that decorate iconic buildings, houses, museums, courtyards and gardens of Girona during the days of this holiday is gradually decreasing. This year, the level of satisfaction with the festival has reached its lowest point – and this despite the fact that the total number of flower arrangements exceeds last year (according to the organizers, 106 against 87 in 2021).
We really do hope that this not quite pleasant trend will change in the future. Nevertheless, there was something to admire, let's look and evaluate together!
On the first photo – Composition 43 "Sant Narcís" on the stairs of the Basílica de Sant Feliu church. It uses the famous legend of St. Narcissus, the patron saint of Girona, and his army of flies, which repeatedly drove foreign invaders from the walls of the city.
***
Composition 67 "Sea of ​​Flowers" in Plaça dels Jurats.
***
Composition 66 "Tree of spring".
***
Composition 65 on the observation deck in the Archaeological Alley.
***
Flowers, plastic, glass, water.
***
Blooming pacifism.
***
The queue in front of the entrance to the Arab baths.
***
Floral arrangements in the Arab baths always attract attention.
***
Flower rainbow at the exit to the roof of the Arab baths.
***
Composition 46 "La nau navega", which in Catalan means "The ship is sailing".
***
It seems that at the time of our visit, the ship managed to sink…
***
Funny wooden tractor on the steps of the stairs in Pujada de la Catedral – composition 33" Camps enjardinats? Jardins cultivables?" (in translation – Landscaped fields? Cultivated gardens?).
***
Composition 32 "Ramé" in the courtyard of Casa Sambola.
***
This is how the Pont de Sant Agustí bridge was decorated – composition 31 "El camí del comerç" (The Path of Trade).
***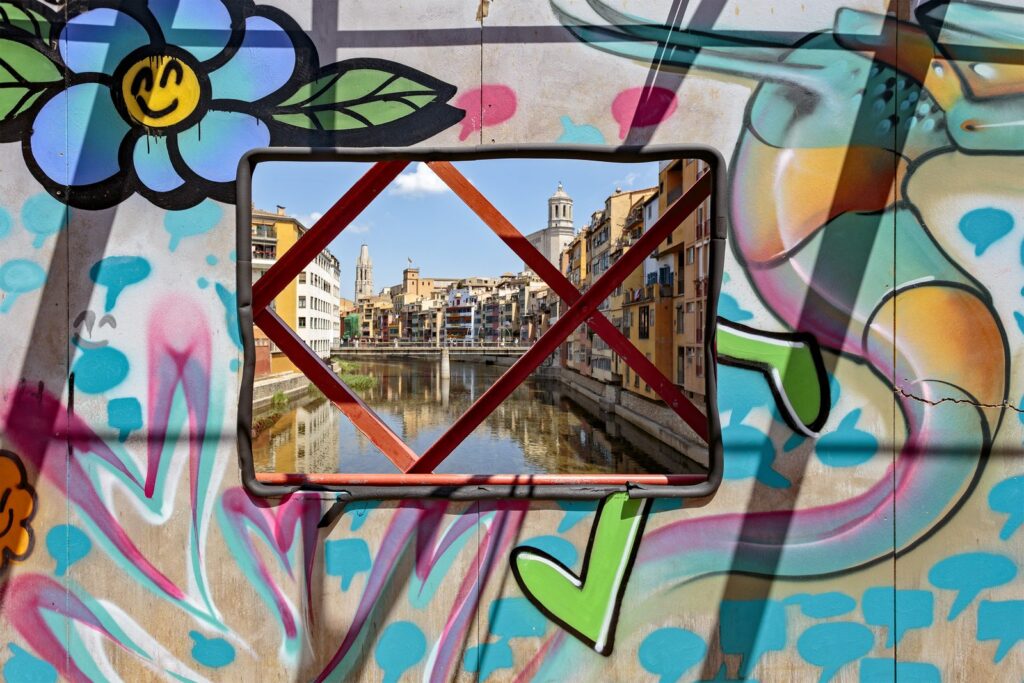 View of the Cathedral of Girona and the Basílica de Sant Feliu from the Pont de les Peixateries Velles. The Temps de Flors 2022 version, in our opinion, is not the most successful.
***
Composition 8 "Giraffes" is one of the most popular places for photographing among festival guests.
***
Composition 82 "La historia i la proximitat del comerç" (History and Proximity of Trade) at Independence Square.
***
More photos, as usual, can be viewed on our blog.
And we really want to believe that in 2023 the organizers of Temps de Flors Girona will do their best and make sure that we have a lot of beautiful photos!