Plot of land in the urbanization Mas Ros, Playa de Aro, Costa Brava, Spain.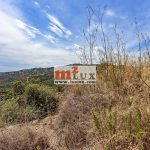 Land for sale for the construction of a house in a calm and green urbanization Mas Ros, municipality of Castillo – Playa de Aro, Costa Brava, Spain. The plot offers excellent views of the sea, mountains and the surrounding valley.
Land area – 943 m2.
Building factor – 35%.
Spot ratio – 25%.
The beach at Playa d'Aro is 2.5 kilometers away (5 minutes by car) and the beach at Sant Antoni de Calonge is 4.5 kilometers away (8 minutes by car).
The nearest airport, Girona – Costa Brava, is located 35 kilometers from the site (34 minutes by car). Distance to Barcelona Airport – 126 kilometers (1 hour 24 minutes drive).
***
Also, please see our other offers for the sale of plots of land for construction on the Costa Brava.